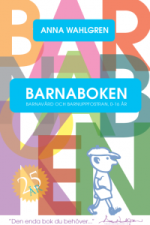 Barnaboken

Om barnavård och barnuppfostran, 0-16 år

Pris: 329 kr
Antal sidor: 834
"Den enda bok du behöver"

Barnaboken är en djupt personlig bok. Anna Wahlgren är ingen avlönad skrivbordsexpert, utan tilltror varje förälder resurser som samhället ofta underkänner. "Åt föräldrarna: råg i ryggen", säger Anna i förordet. "Åt barnen: frihet från skuld."

Barn är inte gjorda av något annat än vi vuxna. Detta tema genomsyrar Barnaboken, som gör upp räkningen med myten om det jobbiga barnet. Barnaboken skiljer sig från alla andra böcker i genren. Här får du inte veta hur fel du gör och hur dålig du är som förälder. Här får du i stället hjälp att våga lita på ditt eget sunda förnuft. Här ges mängder av exempel och praktiska råd.

Barnaboken omfattar fem delar:
1. Havandeskap och förlossning
2. Spädbarnsvård i teori och praktik
3. Småfolk - en praktisk handledning
4. Utvecklingen - alla åldrar upp till 16 år
5. Fostran

Bara i Skandinavien och Europa har Barnaboken sålt i en miljon exemplar. Barnaboken är en skattkista av kärlek och förnuft.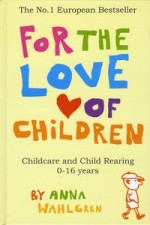 For The Love Of Children

Inbunden Engelska, 2009-08-07

Pris: 329 kr
Antal sidor: 726


From Sweden's foremost baby and child expert
a guide from conception to 16 years.

Embraced by hundreds of thousands of parents across Europe and Scandinavia, For the Love of Children (Barnaboken) is now available in English. Drawing from her experience as a mother of nine, grandmother of eighteen and an educator and friend to thousands of parents over the last 30 years, Anna Wahlgren's For the Love of Children ranges from the practicalities of the physical care of an infant right through to preparing the grown child for leaving home.

Written with candor, affection and humor, For the Love of Children offers comprehensive, meaningful and practical information and guidance on the myriad of issues facing todays and tomorrows parents. Just a few examples are:
- relaxation, breathing and muscle training exercises in preparation for labor
- bathing, feeding, changing and calming an infant
- enabling any child of any age to sleep through the night
- understanding and handling tantrums (at any age)
- establishing structure in everyday life
- encouraging self-reliance and independence through solitary play and social participation
- how and when to "bring up" your child
- eliminating sibling rivalry
- doing the right thing for your child if your marriage breaks down
- coping as a sole parent
With a combination of step-by-step instructions, stories and poems from Anna's own life, as well as examples from her observations and interactions with thousands of children over the last four decades, For the Love of Children provides parents with the information, inspiration and confidence to create and maintain a flock where children can enjoy life and be enjoyed.